Fall Lawn Maintenance
Something You & Your Lawn Can Be Thankful For
Posted
November 24, 2022
---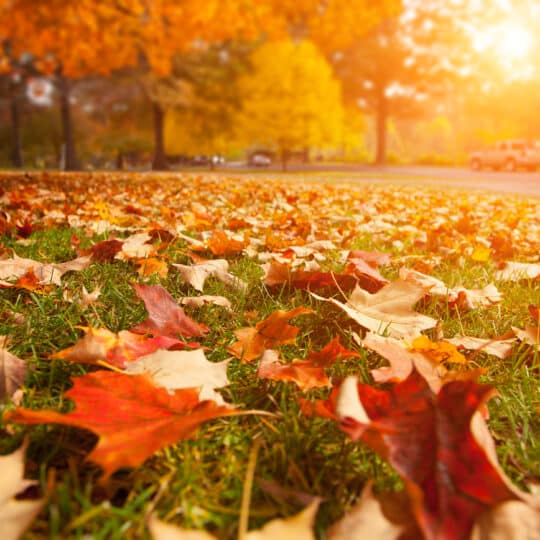 Tis the season to show some gratitude…for healthy grass. You may have already started wrapping up your outdoor tasks for the year, so here are a few reminders of what fall lawn maintenance tasks should be checked off the list.
Resist the Smothering
You may have experienced uncomfortable attention from your extended family this season as they pile on well-meaning advice. This added layer of love may feel a little suffocating. Let this be a reminder that smothering should be avoided at all costs. If you need an escape, go outside and make sure you're not doing the same thing to your lawn.
That layer of leaves isn't insulating your grass, it's thinning it. Your grass can't breathe or absorb any sunlight. Plus, the giant, wet leaves may start to get moldy, which means this fungus will transfer to the grass blades.
Forget about raking, make it easier on yourself and more beneficial for your grass by mulching leaves with your lawn mower. Chopping leaves into smaller pieces provides a natural fertilizer for your grass that will be easier for your lawn to digest.
Time to Eat
While you're getting ready to gobble up some grub, remember that your grass is hungry too. If you've already fertilized in early fall, your lawn may be looking for a second helping. The first feeding helps rebuild grassroots damaged in summer drought.
The next feeding should take place about eight weeks later. This helps your lawn store enough nutrients to last the winter. As a bonus, this second round of fertilizer also helps digest those mulched leaves.
Pull double duty by using a weed and feed product that helps keep perennial plants like clover and dandelions away. With the right balance of nutrients and weed control, your grass is likely to bounce back beautifully in the spring.
Fall Lawn Cleanup Crew
While everyone is in the kitchen cleaning up after that massive meal, head out to the shed and make sure your tools are good-to-go for next year. Help prevent your pruning shears and mower blades from rusting by wiping them down, sharpening them up, and tucking them in for the winter.
Before you settle in for your winter's nap, haul in the other outdoor cushions, furniture, grill, and other items that won't be used in the cold. Even if you want to keep them on your patio, invest in some covers to shield them from the weather. Just make sure nothing is left on the grass unless you don't mind if there's a dead spot left.
If you're about to hang those holiday lights, do yourself and your gutters a favor by clearing them of debris. Hey, you're up there anyway, might as well save yourself the trouble and improve drainage while you deck the outdoors.
Pro Fall Lawn Maintenance
If you've already checked off all these items from your seasonal list, check it twice, then relax! You've earned a holiday break. If you'd rather call in reinforcements, let a professional team of lawn care professionals be your fall lawn maintenance elves. Contact Cardinal Lawns for help with everything from mowing to fertilizing. You'll be grateful you did, especially when you can enjoy a lush lawn next spring.
---
Special Offer for New Customers
Two Free Lawn Care Treatments
Hurry! Offer Expires September 30, 2023