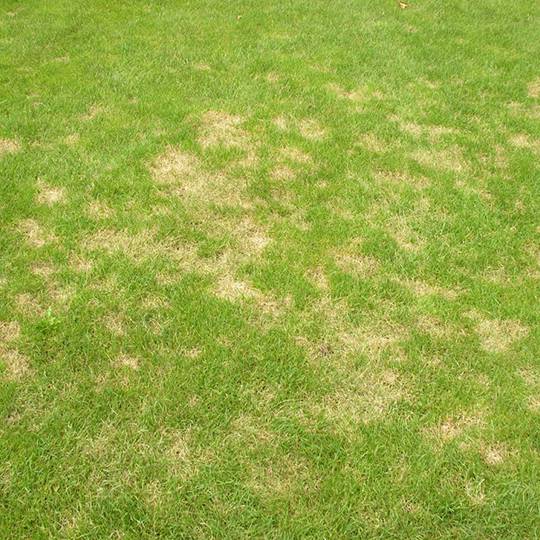 Grasses most commonly affected: creeping bentgrass, annual bluegrass, Kentucky bluegrass, ryegrass, Bermudagrass.
Dollar spots (sclerotinia homoeocarpa) are a common fungal disease that infects even the most perfectly manicured lawns. While some fungal infections damage the roots and crowns of blades, dollar spots only grow on the blades and leaves of grass stalks.
Unlike other lawn diseases, dollar spots occur during all seasons because they can grow in a range of temperatures. Though they thrive in moist, humid air, they can spread in temperatures that range from 56 degrees to 86 degrees, allowing them to flourish from early spring to late fall in warmer climates. Kentucky bluegrass can be particularly susceptible to dollar spot, resulting in larger patches in less time.
Dollar Spot Signs and Symptoms
True to their name, dollar spots are small, round patches. Usually resembling the size of a silver dollar, they can grow to more than six inches wide. Dollar spots are often overlooked at first on home lawns where the infection is small at first and appears to be nothing more than a tiny dead spot. They are also often mistaken for urine patches left by an animal.
Dollar spots become easier to recognize when closely inspected. The blades exhibit several common symptoms: white mycelium grows on the affected area in the morning and fades to a brown, tannish color after sun exposure. The blade often has a purple or light-brown color, as well.
Dollar Spot Prevention
Dollar spot prevention is important because once the infection grows it can kill entire grass blades and your lawn will require new seeding. Dollar spot usually infects grass experiencing excessive stress, which causes it to weaken. To prevent dollar spot, take the following precautions:
Aeration: grass is less susceptible to fungi when its roots are strong.
Nitrogen fertilization: strong nitrogen levels reduce dollar spot occurrences.
Proper mowing: mowing grass too short increases the risk of a dollar spot infection.
Water correctly: avoid overwatering. Excessive moisture increases your risk of dollar spot.
Because proper maintenance can be difficult and time consuming, many choose fungicidal prevention application treatments to fight dollar spots. Call Cardinal Lawns today to discuss your options for making your lawn look its best.
---
Need Help with Dollar Spot?
Call Cardinal Lawns today at 614-808-4446 and let's talk about how we can help treat for Dollar Spot and other common Ohio lawn diseases.
Get a Free Quote