List of Landscaper Lawn Tips
10 Tips and Tools of the Trade
Posted
February 11, 2021
---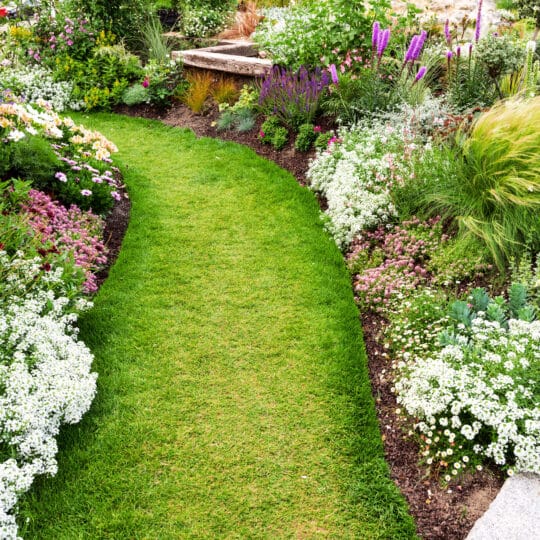 Now that it's February, we're that much closer to spring. If you need a break from snow shoveling, start brainstorming your springtime lawn and garden maintenance plan. Here's a list of some of the most common landscaper lawn tips to get you ready.
Landscaper Lawn Tips
When it's time to start getting your grass back in shape for spring and summer, take some advice from the pros. Keep this checklist handy once the warm temperatures return.
Have a plan. One of the easiest ways to make lawn maintenance efficient and easy is to create a plan. Mark a calendar with how much you need to water and when. Keep a regular lawn mowing schedule if you don't think you will remember when you did it last. Create a list of plants, what their needs are, and where you'll plant them. Not only will a segmented plan help keep you on track for maintenance, but it will help you budget each project when you know what's coming next.
Inspect current trees and shrubs. Before you get to work growing anything new, notice if your established trees and shrubs need further attention. Did any branches break over the winter? Are there any signs of damage or disease? Prune these branches first and consult the pros if you suspect any larger issues.
Soil testing. A stable plant foundation depends on the type of soil it's growing in. Whether you're planting a vegetable or flower garden, the nutrients from the soil greatly impact growth. Soil testing lets you know the current conditions and what levels need adjusting.
Fertilizing. After testing your soil, you'll have a better gauge of what nutrients are needed to provide the best balance. The type of grass or plant you're growing determines if spring or fall is the right time to fertilize. Choose a slow-release formula to increase absorption. Always follow product directions for the best results.
Garden bed design. Whether you're creating a new bed or maintaining an established one, make sure you reinforce a natural edge. Not only does the edge provide a polished look for the garden, a natural one is easier to maintain than adding a store-bought plastic design. Mulched beds also make it easier to mow around a group of plants.
Recycle clippings and leaves. When you start mowing the lawn again, don't bag and trash the clippings. Keep them in the lawn to use as a natural mulch or add them to your compost pile. Any fallen leaves can also be mulched with a mower for compost fertilizer.
Lawn Tools
Having the right tools makes lawn maintenance easier. Here are some tool tips to keep in mind.
Quality over quantity. Instead of buying a bunch of cheap tools you may not even end up using, invest in a good pair of pruning shears and other garden necessities.
Tarps. From moving bulky debris to covering plants in transit, a tarp is one tool with multiple uses.
Landscape fabric. Add a layer of fabric under gravel or mulched walkways to help keep the material from sinking into the soil. However, it's not for use in any areas where you plan on planting.
Plants. When you were planning your garden, did you consider where you'd like to plant annuals and perennials? Annuals may be best in pots and window boxes so they can be easily moved around and swapped out every year. Make sure any perennial is planted in the best spot for it to thrive year after year.
When you create a plan and gather the right tools, you're already starting to think like a landscaper. If you happen to hit a snag on any garden detail, contact Cardinal Lawns for more expert lawn and garden tips.
---
Special Offer for New Customers
Two Free Lawn Care Treatments
Hurry! Offer Expires April 30, 2021