Summer Lawn Care Tips
Plus, How to Prepare for Fall
Posted
August 3, 2023
---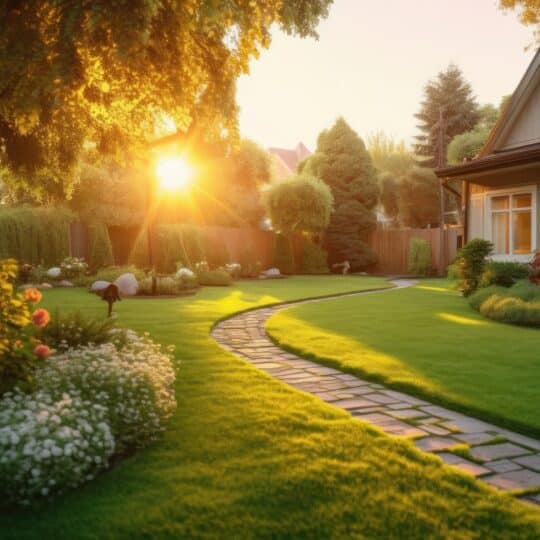 Hot enough for ya? If you're sweltering in the dry, high heat just think of how your lawn feels. Follow these summer lawn care tips to help give your grass some relief.
Summer Lawn Care Tips
There are certain tasks you can do, and not do, during the hottest part of the day to help your lawn survive the summer.
When to water. If you water your lawn in the early morning, the soil is more likely to absorb the water before it's evaporated.
When to mow. Only cut the grass if it's too long. Growth is usually stunted in the summer, so don't worry if you don't need to cut it every week.
When not to worry. Don't be surprised if you start to see some brown or yellow spots in your grass. This could just be part of the natural slowing-down process.
When to call a professional. If you notice other signs of poor health, like pests or bare spots, you may be dealing with disease. A lawn care specialist can help identify the cause.
Prepare For Fall
There are some tasks you can start now to help prepare your lawn for fall.
Weed. One thing you can always be sure of is weeds will find a way to infiltrate your lawn, especially if the grass is bare or stressed. Remove any you see in your yard or garden to keep them under control and alleviate extra work in the fall. Less weeds also makes it easier to reseed certain areas.
Aerate. Soil can become compacted, especially in high traffic areas. Stressed patches of grass can also lead to layers of thatch that ends up suffocating your lawn. Let it breathe by breaking up the soil and creating pathways for water, oxygen, and nutrients to pass through.
Revitalize. Once you weed and aerate, you can also start to fertilize and reseed any bare patches of lawn.
Harness the rain. Heavy summer storms can help replenish your lawn and plants. You can use rain barrels to collect water for future use. If you've aerated, seeded, or fertilized, the rain will also help activate these products. Just watch for any areas of runoff. If your soil is still compacted, any seed or fertilizer can do more harm to surrounding water supplies than good in your garden.
Seasonal Schedule
One of the best things you can do for your lawn this season is to have it evaluated by a professional. From diagnosing issues to setting up a maintenance schedule, an expert can help address any concerns and help ensure your yard thrives any time of year. Contact Cardinal Lawns today to help evaluate your current lawn situation and plan for fall.
---
Special Offer for New Customers
Two Free Lawn Care Treatments
Hurry! Offer Expires September 30, 2023